The subject of flexible working has been given more and more airtime over the past four years, since the legal right to apply for it was granted to all employees, not just to those who are parents and carers. Today, with 87% of full-time employees either working flexibly or expressing interest in doing so, it seems employers can no longer simply pay lip service to the concept.
Accountancy is a notoriously traditional sector, but with the standard 9-to-5 becoming increasingly outdated in the modern world, is it time for accountancy to embrace the change?
How can accountancy professionals work flexibly?
Flexible working hours, known as flexi-time, can help employees balance their life commitments, such as children or exercise, with work. For accountancy firms, however, it can be extra beneficial for dealing with the ebb and flow of work throughout the financial year. Some firms agree the minimum hours needed to be worked across the year, with employees working more during the year-end rush and then balancing it out when it quietens down. This adaptable approach is both cost-effective and productive.
Another type of flexible working is working from home or remotely. With the right technology and resources, such as cloud file sharing and video conference software, accountancy professionals should be able to work remotely easily, especially when working on big individual projects such as monthly audits.
Job sharing or splitting is another increasingly popular option for employees who can't commit to a full-time position for various reasons. Accountancy professionals can work on a two weeks on, two weeks off cycle, coinciding with the month-end; some firms have already introduced this internally.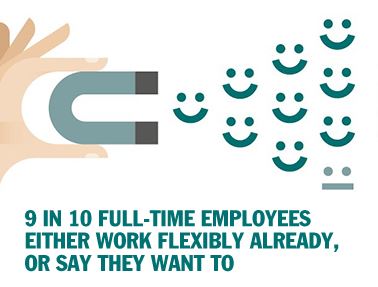 What are the benefits?
Flexible working encompasses when, where and how much employees work. Each different approach can bring various benefits to both employer and employee within the accountancy sector.
The Association of Accounting Technicians (AAT) conducted a study looking at flexible working versus the traditional 9-to-5. The results showed that of the employees who were able to set their own hours and working location, 38% felt happier, while 35% felt less stressed. Stress is linked to illness and unproductivity, suggesting a clear advantage of flexible working for employers. Interestingly, 27% also stated that they had actually worked longer hours whilst having a flexi-routine, rather than when 'shackled to normal office hours'.
Despite some successful initiatives in the past years, diversity remains an issue within accounting professional bodies. A recent survey by the Accountancy Age 50+50 firm found that, on average, only 12.9% of leaders are female, with 19% of firms having no female partners. Flexible working enables those returning to work after having children to effectively balance family commitments with work; a key reason why there are so few women in senior positions is firms not adapting to this need.
Talent attraction and retention is another barrier that flexible working can help accountancy firms overcome. As flexibility is becoming more embraced by companies, it is becoming a key benefit that potential employees look for. 73% of the AAT study participants said they would be reluctant to accept a new role if it didn't offer the same or more flexibility as their current place of work. The accountancy sector is currently experiencing a talent shortage; Robert Half research found that 65% of CFOs find it challenging to find suitable candidates. By shaking off the traditional 'shackles' of the 9-to-5, accountancy firms can position themselves as a modern and appealing employer.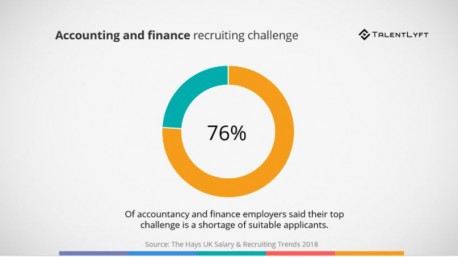 What are the drawbacks?
There are disadvantages to introducing a flexible working policy. 15% of those in the AAT study mentioned feeling lonelier when working remotely. Disjointed schedules and remote working can have a negative impact on company culture, as there may not be a strong contingent in the office every day. This can reduce collaboration between team members, as well as morale and the brand identity. This is likely more of a concern for smaller, boutique firms, rather than the larger accountancy firms, such as the Big Four.
13% of the AAT study participants also worried that by working remotely, they were 'out of sight, out of mind', which may negatively affect their chance of promotion or recognition. The Hays Gender Diversity Report 2017 found that 75% of female accountancy and finance professionals believed that working flexibly would limit their future career progression, while 65% of men believed the same.
Whilst some claim it helps keep a healthy work/life balance, flexible working can also blur the lines between the two. Our instant availability through email and mobile phones means that it can be hard to 'switch off' at the end of the day. The 9-to-5 structure gives a clearer cut-off point of leaving the office, whilst those working at home may feel pressure to keep working into the evening. This can lead to dissatisfaction and burnout. On the other end of the scale, some employees may struggle to stay motivated and focused when not in an office environment, inhibiting overall productivity.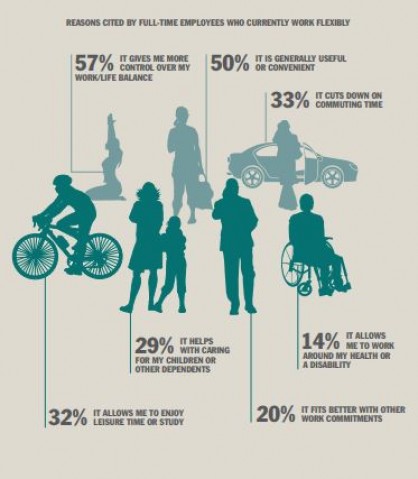 It is evident that flexible working is an important policy for all accountancy firms to consider. While it may not be the right fit for every firm, there are advantages in entrusting employees to find the balance and structure that works for them. The UK's working hours are some of the longest in Europe, but our productivity does not match up to this. Something needs to change – flexible working could be the answer.